With a beautiful and intimate performance in the picturesque White Church in Terheijden the American singer-songwriter and folkmusician Amy Speace puts an end to her tour in Holland. Late last year Speace already made a big impression with Nashville, Tennessee resident and singer-songwriter John Fullbright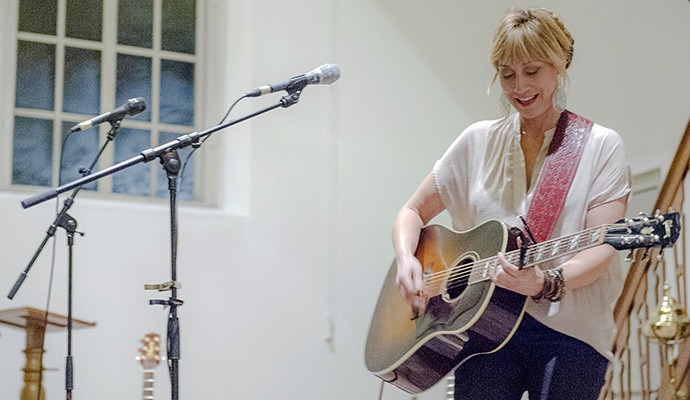 Although Amy Speace is not yet widely known in Europe, her exceptional talent is recognized by many of her colleagues for quite some time. Also by American singer-songwriter John Fullbright who subscribes this with the significant words: "There are a lot of artists with little talent, who've got a lot of credits. Amy Speace got a lot of talent, but little credit." I completely agree on this statement and I think this also applies to those who attended a performance of Amy Speace. It wouldn't surprise me if this – quite rightly – will change soon. And Amy Speace will get the credits she absolutely deserves.
Prior to her last show in Holland – after this Speace continues her European tour in England – I had an extensive and interesting conversation with her ​​about her background, art, loss of voice, the power of music and her latest album How to Sleep In A Stormy Boat.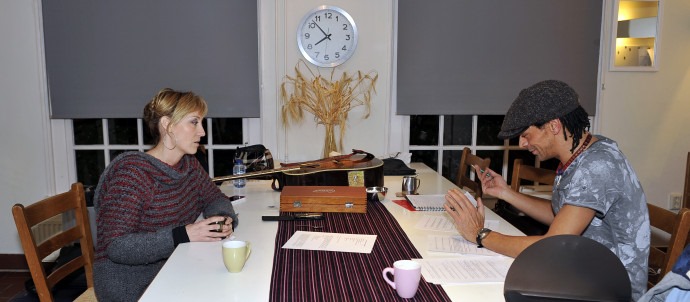 Is this your first solo tour in Holland or Europe?
"Yes. The joint-appearance with John Fullbright was my first show in Holland. I have been to England several times before."
How do you like it? What do you think of Holland and how were your shows over here so far?
"I love it to perform here. And I am pleasantly surprised to see so many people come to my shows and listen. I start to love Holland in this short period. The people here are really musical minded and listen carefully to the music and the lyrics."
Do you perform a lot in the United States? Do you tour regularly over there?
"Oh, yes, I tour constantly in the U.S."
You've got quite a lot of talents and you're a many-sided artist. Besides singer-songwriter and folk-musician you're also an actress, director, playwriter and musical-artist. Do you come from an artistic family?
"No, not at all. I come from a family of businessmen and nurses. The ancestors of my father's side are German / Dutch. And on my mother's side they're Irish. I am the eldest in a catholic family of four children in Baltimore, Maryland. My artistic streak, my drive to create in art comes entirely out of me. But I'm always stimulated in it by my parents and my grandmother."
"Music, art and poetry always had a big influence on me"
When did you start making music?
"Haha, from birth. Well, at a very young age. When I was three years I played on my grandmother's piano and I tried to sing. Within our family this was immediately and fully appreciated and like I said encouraged."
When did you discover that you're talented in different ways?
"In addition to making music, I was already writing at a very young age. I always had a great love for art. Music and poetry always had a big influence on me."
You were born in Baltimore but moved to New York later. What was the reason to move to New York?
"My love of art. I first studied literature at the Amherst College of liberal arts in Massachusetts. But I was also encouraged to do something with drama and theater. I lived in New York for eighteen years. I attended and graduated acting school at the National Shakespeare Conservatory in New York. At that time I still didn't know which of my passions to pursuit. I wanted to sing and act and learn everything. However poetry and good music always had a big influence on me."
"As a singer-songwriter it all came together
in an overwhelming manner"
After studying at the National Shakespeare Conservatory in New York, you went acting and worked for several years at the National Shakespeare Company. After that you started directing, playwriting and singing in musicals. Later on you focused on making music and writing songs.
"At one time it all came together as a bolt from the blue, like a strike of lightning. The combination of poetry and music, I mean. As a singer-songwriter all of it came together in an overwhelming manner. "
What have you been doing since then?
"Strictly making music. I'm focussed on music since then."
Don't you miss any of those other things you love to do?"
"No, not really. Well, I have to say that I'm more or less forced to it. Besides singer-songwriter and folk-musician, I'm a writer too and eventually I wanna do something with that too. I do have a story for a book that I wanna write. Although that's also quite exciting. Because writing a book is something else than writing songs of three or four minutes. But anyway, right now I'm on tour all the time, so. It seems impossible to combine these things. So I focus on one thing. And I'm at peace with it."
You started playing guitar at the age of 25. When did you start to accompany yourself musically. When did you start performing?
"Haha, when I was three years old. As a small child I performed for my family and friends. And I wrote lyrics. But I know what you mean. From the moment I was able to accompany myself, I started to perform."
In New York?
"Yeah, I went to perform in small clubs in New York with just two songs written by me. After a few weeks I was picked up by a number of relevant people including folk-artist Judy Collins, who also ran a record label and recorded my song Weight Of The World."
"Nashville is the capital of music
Not just country music"
In 2009 you moved to Nashville, Tennessee. For obvious reasons, I suppose. After all Nashville is the capital of country music.
"Nashville is the capital of music, not just country music. Yeah, I moved to Nashville for songwriting. I live in Nashville now for about four years."
In 2002 your debut album Fable came out. Can you tell us something about that?
"I don't really consider this my debut album, but more like a demo. I consider Songs For Bright Street (2006) to be my debut album."
How would you describe your music yourself?
"As 'storytelling'."
Your music is often compared to artists such as Lucinda Williams, Sheryl Crow and Allison Krauss. Are you okay with that?
"Oh yeah, definitely. They are great artists. I also listen to their music. I consider this a compliment."
I would add Tift Merritt to it, listening to your music. I think your voices and music have similarities.
"Oh, that's interesting. I Never thought of it myself. But I love her voice and music."
When I tell her that we recently attended a concert of Tift Merritt with Josh Ritter in Holland, miss Speace bounces up in joy and is filled with admiration.
"Wow! Josh Ritter! Now, that's a great singer-songwriter. I love him. I've got a crush on him. He's great. It's really a pleasure to attend his shows and listen to his music. He's a great performer. I love the way he writes music and lyrics. He's just awesome and highly intellectual. He's so inspiring to me."
Okay, how nice. What other artists do you admire?
"I think Elvis Costello is a brilliant songwriter. I love his songwriting and the way he writes lyrics and orchestrates melodies. That counts for John Fullbright and Richard Thompson (my favorite guitarplayer) as well. I really would like to be produced by Elvis Costello or Richard Thompson. I am also a great admirer of Guy Clark. And of course Joni Mitchell. And Patti Smith. Her music, lyrics and her book Just Kids have been a great inspiration to me."
"Mary Gauthier is one of the greatest singer-songwriters I know"
Well, I'm a great admirer of singer-songwriter Mary Gauthier. To me her music and lyrics are often breathtaking beautiful and moving. She contributed to your latest album How to Sleep In A Stormy Boat.
"Oh, yes! Mary Gauthier is one of the greatest singer-songwriters I know. She is originally from New Orleans but lives in Nashville too. She's a good friend of mine. Mary means a lot to me. She's like an older and wiser sister to me that I can always go to for guidance, advice and assistance. On How to Sleep In A Stormy Boat Mary sings on The Fortunate Ones . And she has co-written Left Me Hanging."
Besides Mary Gauthier there are also guest appearances by Ben Sollee and John Fullbright. On what songs?
"Ben Sollee plays cello on a couple of songs including Lullaby Under The Willow. With John Fullbright I recorded The Sea & The Shore."
On the beautiful song The Sea & The Shore the metaphor for The Sea is Life, isn't it? What's the metaphor for The Shore?
"Well, in this song the metaphor for The Sea is The Man. And the metaphor for The Shore is The Woman. The song refers to the relationship between a man and a woman. In this little story the man keeps leaving his love one over and over again, despite all his promises. But he also keeps coming back to her. However, every departure of The Sea leads to the fact that a part of The Shore is washed away. Finally this results in a painful breakup when the woman says, "I was promised to The Moon while you were gone'. That's what this song is about."
I understand that at one time you lost your voice completely and couldn't even speak for a period of time. You don't mind talking about that?
"No, that's okay. Go ahead and ask."
Alright, because this fascinates me. In your case I don't know what caused it. But a good friend of mine experienced the same thing a couple of years ago. In his case it turned out to be a stroke. Till this day he has great difficulty speaking. In his mind he can formulate the sentences properly, but he can't pronounce them. What happened in your case?
"Oh, that's terrible. In my case it turned out to be an inflammation of the larynx and vocal cords."
This must have been devastating for you. I mean, being a singer and all. For how long you didn't have a voice at all? And how did you cope with it?
"Well it was total horror and a very difficult time for me. I had no voice at all for about two months. It was a nightmare. The doctors diagnosed me with Laryngitis, an inflammation of the larynx and vocal cords. My vocal chords were totally cramped. And they had to be loosen again. Therefore I had to learn to let go in a physical way, but also in an emotional and spiritual way. Then I went looking for alternatives as well. Finally I found a therapy of Indian origin, called Vipanassa Therapy."
"I am an optimistic atheist who hopes there is "something"
Bigger than the human capacity"
What's Vipanassa therapy? And did it help you?
"This difficult period made me think deeply about everything in life. And how to deal with rough and severe emotional times. I had to learn to "let go" in a spiritual sence as well. I am an optimistic atheist who hopes there is "something" that's larger than the human capacity. Anyway, the Vipanassa therapy is a very intensive therapy with a lot of yoga. I took a ten-day therapy that really helped me to regain my voice."
So it's a therapy of Indian origin. Have you ever been to India?
"No, I've never been to India, but I would like to go there one time. It seems to me that India is a challenging and fascinating country. A few years ago I've been to Cambodia and Vietnam. I loved it. I had a wonderful time. But it was also an 'eye opener' for me. In a way I find it difficult to go to India. I don't wanna be another "rich white westerner" who come to India as a backpacker to come and see the country. I rather go to India to study."
So the reason of you losing your voice completely was mainly physically. It had nothing to do with a brain injury or a stroke, like my friend. And it wasn't a matter of a certain psychopathology. Well, like I said before, I am fascinated by this. I mean psychopathology and the complexity of the human brain. And all that can go wrong in the human brain, for whatever reason. Do you know the famous English, but U.S based, neurologist Oliver Sacks? He writes most interesting and intriguing books about autism, Alzheimer's disease and the effects of brain injury. He also writes books about Agnosia (book: The Man Who Mistook his Wife for a Hat) Did you ever read any of his books?
"Yes, I know Oliver Sacks. Didn't he write a book about the influence of music (on the human brain) as well? "
Yeah, he did. That's a wonderful book by Oliver Sacks, entitled Musicophilia: Tales Of Music And The Brain ( * )
"That book is on my shelf and I wanted to read it for a long time. I didn't find the time yet to read it. But I definitely will read it when I get home."
(*) In relation to the book Musicophilia: Tales Of Music And The Brain (Oliver Sacks) there's also a documentary (Alive Inside) which shows an older man with Alzheimer's disease who totally revives when he hears music from the past. We included this image in our magazine (Motives) to show the unprecedented Power of Music. See: The Power of Music
Your road to recovery and overcoming this difficult period has led to the stunning album How To Sleep In A Stormy Boat and beautiful songs like The Fortunate Ones and The Sea & the Shore. Are all songs on the album related to that period?
"In a sense, yes. But although this was a difficult and stressful period for me, it also had some positive effects. It brought me things on a emotional and spiritual level. I believe things happen for a reason. And I believe there's "something". This period has given me opportunities as well. Like my new album. The songs on it I consider to be a gift of that period."
"A period of pain, sorrow and grief compels you to transform 
Physically, spiritually and artistically"

You indicated that this is your most intimate album so far. Does an artist need such difficult times of sorrow and grief to write beautiful music and lyrics? What's your opinion about that?
"Well, I don't know if that's absolutely necessary. But it definitely helped me."
Last year I interviewed a Nashville colleague of yours, singer-songwriter Gretchen Peters. And I asked her exactly the same question. You wanna know what she answered?
"Yeah, tell me. I'm curious."
Okay, Gretchen Peters replied as follows:
"Although I think this is not necessarily required, such a period can be an important contribution. Pain and personal suffering transforms into art and can lead to great things. However painful, it also provides something. And makes you realize that life is not based on illusions. It opens your eyes and makes you realize that you can't control everything in life. You're gonna see things as they really are, and puts them in a different perspective."
Can you agree on the answer Gretchen Peters gave?
"Oh yes, that's nicely put by Gretchen Peters. I totally agree on that. I would like to add that a period of pain, sorrow and grief compels you to transform into a next evolution, both physically, spiritually and artistically. You learn from those kind of periods and it makes you think deeply about life. It makes you search for answers to burning questions. In my case, it led to new songs."
When it comes to music coming from the United States, you often hear the word Americana. To me that's quite vague. What's Americana in your point of view?
"You're right. It is vague. I my point of view it's a combination of (old) country, folk and rock music. I think that's Americana."
What kind of music do you listen to at home?
"Actually, I hardly do. When I listen to music at home, it's often jazz or classical. Music without lyrics."
What was the last album you bought?
"Well, I'll have to think on that one. I think it was an album of Nat King Cole and Art Tatum."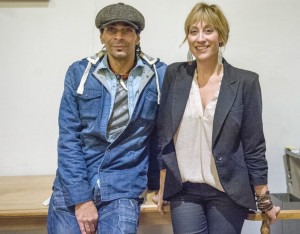 What are your plans for the near future. What are you gonna do when you get back home?
"Haha, sleep and rest well. No, I have plans to write a book. And I want to bring out a new album later on. I've got a lot of new songs."
Finally, I ask miss Speace if there's any question that she would have liked met to ask her. And if there's anything she wanna let her Dutch fans know.

"Well, I want to thank everyone in Holland for their hospitality and the fact that they came to my shows. And really payed attention to my music and lyrics. This means a lot to me."
Text: Rick Warner

Review Amy Speace & Jens Lysdal