Sublime performance by great American singer-songwriter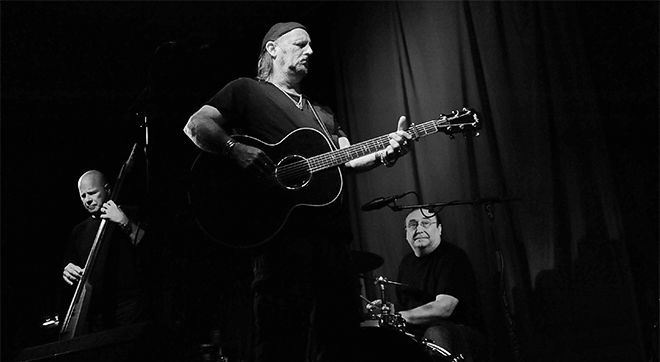 – After touring Holland last year Jimmy LaFave is coming to Holland again to do a couple of shows. Last year (September 15th 2013) I spoke to mister LaFave after his performance at the music cafe of Podium Roepaen in Ottersum, Holland –

Last year the American singer-songwriter Jimmy LaFave and his band already performed in this venue. That was in the big chapel but tonight he plays at the smaller, more intimate music cafe of Podium Roepaen in Ottersum, Holland. The intimacy of this smaller stage is appreciated by LaFave as well. This results in an extremely intense and highly inspired performance. LaFave's music is a fine mixture of americana, roots, alternative country, folk and blues.
Accompanied by a strong and reliable rhythm section consisting of Bobby Kallus on drums and Glenn Schuetz on bass and fine guitarist Phil Hurley, LaFave opens with the beautiful Clear Blue Sky, a song on the album Depending on the Distance. Followed by Tomorrow Is A Long Time and Just Like A Woman by Bob Dylan. Next to a lot of own songs – like the marvelous Going Home, Not Dark Yet and Only One Angel – LaFave plays a couple of songs of other singer-songwriters that he admires.
Bob Dylan
LaFave admires artists like Woody Guthrie – his musical hero – and Bob Dylan. Besides works of these two icons LaFave also plays songs as Through The Hills And Gone (Townes van Zandt), Magnolia (JJ Cale) and Have You Ever Seen The Rain (Creedence Clearwater Revival). With his wonderful, unique and emotional tone of voice LaFave is able to give these covers their own feel and depth.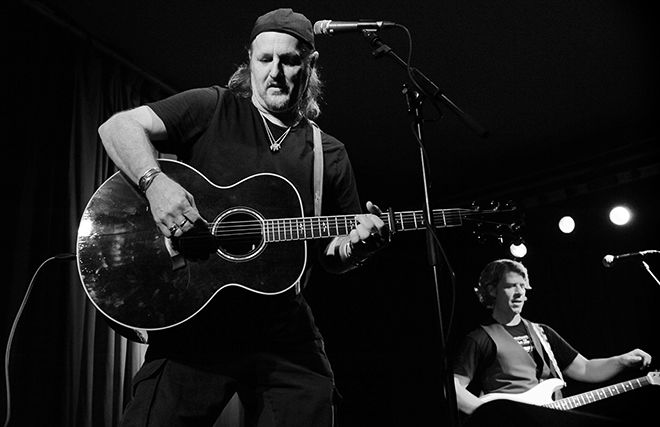 Just like before mentioned artists LaFave is an exceptional songwriter himself. In the past few decades the works of LaFave are quite massive and impressive. He released almost twenty albums including classics like Texoma Road Novel, Trail, Cimarron Manifesto and Depending On The Distance.
Prior to this show LaFave performed at the americana festival Take Root in Groningen, Holland alongside other performing artists like Kris Kristofferson, Diana Jones, American Aquarium and Sean Rowe.
---
After tonight's performance I'm having a conversation with Jimmy LaFave in which I submit him to some questions.

How was your show last night at the Take Root festival?

"Take Root is a nice festival and we had fun playing here. It's also nice to meet other artists and see them perform. I really enjoyed to see Kris Kristofferson perform solo."

You've played in this venue before. Then in the big chapel but tonight now in the smaller music café. What do you prefer?

"The big chapel is great obviously but I prefer this smaller stage, as well in intimacy as in sound. Actually I prefer to play in smaller, more intimate venues in general."

Is tonight's band your regular backing band? Do they play on your albums as well?

"The guys in the rhythm section and myself been together for years. They also play on some of my albums. And guitarist Phil Hurley is with me on this tour. And different from last year we didn't bring along a keyboard-player."

You were born in Texas but you also lived in Oklahoma. Where do you live and work nowadays?

"I was born in Wills Point, Texas. During my teens I moved to Stillwater, Oklahoma. But I live in Austin, Texas for about twenty years now."

"Austin is a vast and wonderful musical city.
A lot of musicians move to Austin."
There's a lot going on in Austin musically. It seems to be a good and inspirational ground for bands, artists and songwriters.

"Oh yeah, Austin is a vast and wonderful musical city where a lot of musicians, artists and bands live, work and migrate to. Austin is a very vibrant city where a lot happens musically. It has many big festivals like the well-known South by Southwest Festival, the Austin City Limits Festival and a lot more."

Recently you toured in the United States with colleague Gretchen Peters who toured in Holland last year. How did this came about?

"I know miss Peters for many years. She's a wonderful colleague and a great songwriter. I love to work or perform with her and ocassionally we do."

Are there any other artists that you work with?
"I regularly work with lots of different artists. With upcoming artists as well. In that respect I especially like to mention Garrett LeBeau who recently made his debut with the great album Rise to the Grind. LeBeau is a fantastic singer, songwriter and musician of whom I expect a lot in the near future."
"Bob Dylan should be awarded the Nobel-price for Literature."
What are your plans? Are you working on a new album?

"I hope to release a new album next year. But I'm also quite busy with other projects. I'm currently working on a Tribute to Jackson Browne. I already contacted several artists to participate. Besides Lyle Lovett and Don Henley I also approached Bruce Springsteen to contribute on this project. I hope to finish and release this project in April next year. Furthermore I'm very busy with the Woody project including twenty never released Woody Guthrie songs. I've got this material through his daughter Norah Guthrie. And I'm working on it now. I also want to release an album with some trail versions, a live-album with recordings that are made during my various tours. I found some fine recordings."
I know you are a great admirer of Woody Guthrie and Bob Dylan. Soon the various Nobel-prices will be awarded again. There's a column in our magazine in which I suggest that Bob Dylan truly deserves the Nobel-price for Literature already for many years. What's your opinion on this?

"I fully agree. Bob Dylan deserves this Nobel-price for many years now. Although several songwriters and artists have been mentioned over the years, there's only one of them that really deserves the Nobel-price for Literature. They should have awarded Bob Dylan many years ago."