Concertserie "Pure White": Amy Speace & Jens Lysdal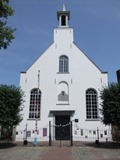 Tonight the American singer-songwriter Amy Speace ends her tour in Holland at a extraordinary location, namely the White Church in Terheijden (near Breda). This small protestant house of God normally serves as a church on sunday afternoons but once a month it serves as a fine location for interesting acoustic concerts known as "Pure White". On the 20th of February the Canadian singer-songwriter Lynn Miles will make her appearance here. But tonight it's Amy Speace & Jens Lysdal.
When we arrive at the White Church in Terheijden earlier in the evening we're friendly welcomed by some officials of the church, and later by the initiator of "Pure White", Mr Nico Vermeulen. We also get a tidy room offered where the interview with Amy Speace can take place. Upon entering, next to Amy Speace and manager Andy Washington, we also meet Jens Lysdal the originally Swedish singer-songwriter who later moved to Denmark. Lysdal will be the support act tonight.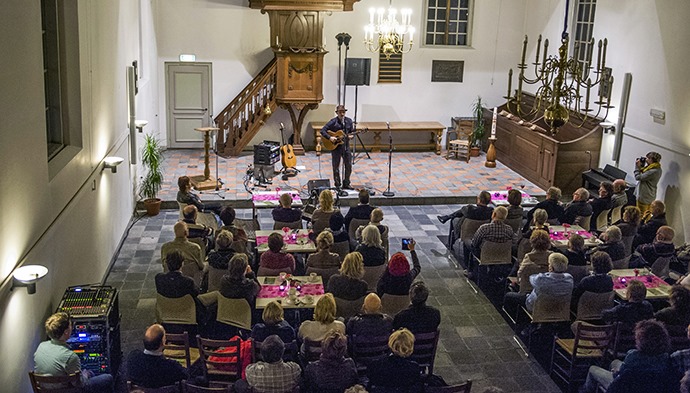 Jens Lysdal
At half past eight the talented singer/guitarist Jens Lysdal makes his appearance. While playing his guitar, he sings a couple of fine songs of his just-released album Easy Heart, recorded at The Congress House in Austin, Texas. However Lysdal starts off in Swedish with the song Grimash To Morgonen. A song by Cornelis Vreeswijk, who's immensely popular in Sweden. After that, Lysdal plays a instumental which proves him to be a superb guitarist. This leads up to I Should Have Danced, a song Lysdal wrote with his American friend and colleague Ray Bonneville. His most impressive song however is the beautiful ballad Easy Heart. The title track of his new album.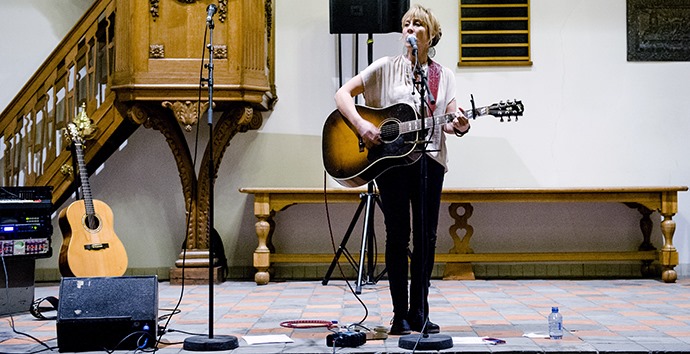 Amy Speace
When Amy Speace appears on stage the audience gives her a great welcome. Speace starts off without a microphone to sing a poetic narrative. Followed by The Fortunate Ones, a beautiful song Speace has co-written with friend and singer-songwriter Mary Gauthier on her latest album How To Sleep In A Stormy Boat. Then Speace introduces her song Hunter Moon by telling there's a full moon going on right now and that the native Americans have a name for each full moon. For native Americans the hunter moon (in november) follows up on the harvest moon. Later on Speace introduces most of her songs with a nice anecdote.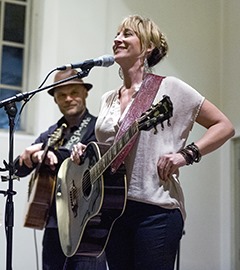 Besides songs mentioned earlier Speace also plays Left Me Hanging and Weight Of The World, a great song of the early years that was also recorded by folk singer Judy Collins. At the end of her show Jens Lysdal accompanies her on stage to play a couple of songs together. They end up with It's Too Late To Call It The Night. This puts a fitting end to a wonderful performance in which Speace proves to be a gifted singer-songwriter and storyteller.
Exclusive interview Amy Speace